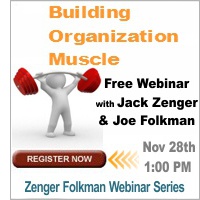 Last week we held our morning briefing in Toronto on Developing Exceptional Leaders. During the first part of the morning I delivered a 90 minute overview of the unique and revolutionary Strengths-Based Leadership Development System. You can view a condensed version of the material I covered in an archived webinar on The Strengths-Based Leadership Development Revolution hosted by the Canadian Society for Training and Development.
After our break we had three superb panelists; Melissa Warner, Manager of Learning and Development at Canadian Tire, Lori Nemeth, Director of Learning and Development at Seneca College, and Grant Armstrong, Manager Organizational and Leadership Development at Niagara Region. Each provided a 10 minute overview on how they've been using the Strengths-Based Leadership System so effectively in their organizations. The three organizations covered a diversity of sectors and ranged from highly customized approaches using their own competency models to a more standard use of The Extraordinary Leader methodology (which we'll be using in this month's Extraordinary Leader public workshops).
A very lively 30 minute question and answer session followed. A major theme of this discussion was the revolutionary shift from a weakness or gap focus to strengths-based development. A number of briefing participants voiced their new realization that the approach they're using to training needs analysis is unbalanced and one-sided. It's really a weakness analysis. And it's one of the big reasons many of the training programs that result from this are often poorly received and rarely show much change. As one participant said, "we need to totally change our approach to needs analysis."
Participants completed a feedback form at the end of the morning. The first question asked "what points from today's briefing did you find most useful?" Almost everyone mentioned focusing on strengths as their biggest "take-away." Here's a sample of a few of those comments:
"Leadership development based on strengths is very new for me. It gave me a new perspective for my future work."
"The research showing how improving a few strengths disproportionately boost performance is very compelling."
"Focusing on strengths is a big paradigm shift."
"It's a big switch in mindset from improving shortcomings to building on strengths."
"Significant results can be achieved with focusing on developing strengths.
"This is very different from traditional leadership development and means a real shift in thinking and approach."
"A strengths-based approach ripples out to create a more positive, can-do culture."
 Jack Zenger has an excellent blog on this topic at "Why Focusing on Weaknesses Doesn't Create Exceptional Leadership".  It's drawn from ZF's superb new book, How to Be Exceptional: Drive Leadership Success by Magnifying Your Strengths.
On November 28, Jack Zenger and Joe Folkman are providing a complimentary webinar on Building Organization Muscle. This is an excellent chance to hear from the two revolutionaries who've been leading the charge for a whole new approach to leadership development. The webinar will not be archived and available later, so don't miss it! Details and link to register are below.
In the words of the venerable Peter Drucker (now called "the father of modern management"):
"The effective executive makes strengths productive … one cannot build on weaknesses. Strengths are the true opportunities … to make strength productive is the unique purpose of the organization. It cannot overcome the weaknesses with which each of us in endowed, but it can make them irrelevant. Organization must feed the opportunities and starve the problems."
For most companies, employee assessments are a common practice. Employee assessments are traditionally used to identify common problems within organizations and possible ways to fix them. The problem with this popular practice is that the process is only half as effective as it could be. Why? Because these surveys are designed to point out organizational weaknesses and not capitalize on their greatest strengths.