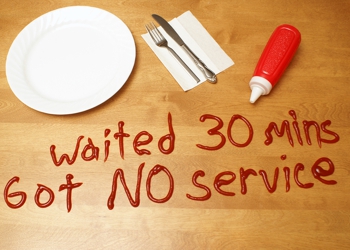 A sign in a diner read, "Customers who feel our servers are rude should see the manager." How true. Servers often reflect the level of service they are getting from their leaders. Rude or insensitive managers create that culture. As a customer, I'd rather not find out just how rude the manager is!
Many organizations have a set of core values defining their ideal culture. But too often there's a big gap between aspired values and lived values — what frontline team members experience every day. That gap can be traced directly back to the department, division, or organization's leaders.
This is an enduring and vital key to culture development. For example, engineer Joseph Juran was an earlier pioneer in quality improvement in Japan and North America. He's one of the key figures in the revolutionary quality and process improvement techniques that have evolved into today's Lean approaches. Juran wrote "having observed a great many companies in action, I am unable to point to a single instance in which stunning results were achieved without the active and personal leadership of upper managers… In a revolutionary change — a change in culture — leadership is not delegable." Another quality guru, W. Edwards Deming agrees, "The transformation must be led by top management."
In his book, The Culture Cycle: How to Shape the Unseen Force that Transforms Performance Harvard professor James Heskett's reports on his decades of research on leadership and culture change. He makes this critical point, "effective leadership often involves delegating responsibilities and authority. But one responsibility that can't be delegated completely is reshaping and maintaining an effective culture."
Zenger Folkman looked at ratings from 34,098 employees on whether their immediate manager was a role model. In looking at their level of commitment/engagement they found that poor role model managers had employees at only 41 percent commitment levels. Positive role model managers had employees with 88 percent commitment levels. Of course, less committed or engaged employees create lower levels of service, quality, innovation, safety, and productivity.
Tomorrow we publish my January blogs in the February issue of The Leader Letter. This issue focuses on a few aspects of leadership team effectiveness and culture development. You can check your leadership team on our list of seven common traps that snare many teams. You'll also find a number of ways leadership teams can model the culture they're trying to build. As well, you can see how performance management approaches are changing to better reflect strengths-focused and positive cultures.
To paraphrase an old adage, the road to a weak culture is paved with good intentions. We often judge ourselves by our intentions or aspired values. But our teams follow our actions or the values we live each day. They see their leaders loud and clear.