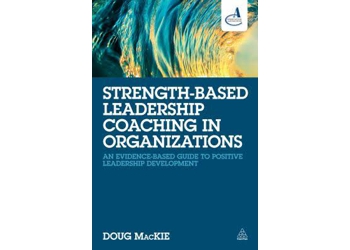 Positive Psychology's focus on identifying and developing strengths aligns strongly with executive development and leadership coaching. Once leaders understand the logic and power of strengths-based approaches the reaction is often "but of course." However, taking for granted what's right is hard and looking for what's wrong is wired deep in our primordial brain.
Organizational psychologist and executive coach, Doug MacKie, delivers on the sub-title of Strengths-Based Leadership Coaching in Organizations with "an evidence based guide to positive leadership development."
Here's a few key points highly applicable to leaders and leadership development professionals concerned with our leadership development crisis:
Research is showing that implementation rates of leadership training is about 10 percent – or likely less given the lack of rigorous evaluation.
Talent/leadership development strategies can differ widely depending on whether leaders believe leadership skills are fairly fixed as innate traits (fixed mindset) or a belief they can be developed (growth mindset).
Mindsets can be changed fairly quickly. The coachee's attitude toward learning and development predicts a fair bit of their developmental effectiveness.
Coaching and positive psychology assume that people want to learn and many of their solutions are to be drawn out from within.
Many leaders have little awareness of his or her own strengths and need feedback.
When strengths-based approaches raise strength awareness and align them with organizational needs they can build leadership mastery.
Managers who focus on building strengths in their direct reports significantly increase performance. Managers focusing on weaknesses reduce performance.
A positive coaching culture is based on leaders believing employees can solve many of their own issues, fosters intrinsic versus extrinsic motivation, models strengths-based leadership, embeds positive principles in HR practices, and provides resources to support the culture.
Strengths-based coaching is about asking the right questions, not providing the answers.
Performance reviews most often reinforce negativity bias and focus on what's wrong to close gaps rather than focus on what's right and leverage strengths for higher performance.
Strength building depends on organizational context such as what combination will maximize performance and which ones complement each other in particular situations.
The book is fairly academic and a dense read for a reader new to this type of approach. I quite enjoyed it because it's focused on areas of my own study and practice in bringing together research and best practices across the fields of strengths-based development, positive psychology, and executive coaching.
—————
I'll overview innovative new research and a practical and proven approach to strengths-based leadership and coaching in my November 29 webinar on Groundbreaking New Approaches to Leadership and Coaching Development.