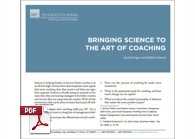 Tomorrow's publication of The Leader Letter pulls all the January blogs together in one place. Most of these were focused on coaching as we completed our certification for Zenger Folkman's very powerful and unique Extraordinary Coach development process.
It's fitting that we wrap up "the month of the coach" with Zenger Folkman's insightful white paper on "Bringing Science to the Art of Coaching." As with so many other elements of leadership and organization development there are a myriad of theories, frameworks, and approaches to developing coaching skills. The key question is what really works?
In "Bringing Science to the Art of Coaching" Jack Zenger and Kathleen Stinnett apply research from a variety of allied disciplines, draw lessons learned from other successful initiatives that are closely related to coaching, and use research conducted in business and public service organizations.
The key questions Jack and Kathleen address in their white paper are:
1. To what degree does coaching really pay off? Or, is this just one more in a long line of management fads?
2. How can we increase the effectiveness of each coaching session?
3. How can the process of coaching be made more consistent?
4. What is the appropriate goal for coaching, and how much change can we expect?
5. What is it about the coaches' personality or behavior that makes the most positive impact?
The authors provide an overview of a few of the tools and techniques from The Extraordinary Coach development system:
• Coaching Topic Checklist
• Coaching Feedback Form
• FUEL model
• Stages in the coaching for change process
• Three keys to Motivational Interviews
Click to read or download a copy of "Bringing Science to the Art of Coaching".