click to enlarge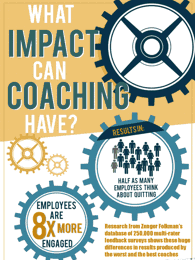 In his introduction to The Extraordinary Coach: How the Best Leaders Help Others Grow, bestselling leadership author and executive coach, Marshall Goldsmith, points out, "a leader who is an adept coach can greatly enhance the organization's success; one who dabbles and doesn't take the process seriously can cause harm."
Marshall's insight is especially true when it comes to the critical issue of employee engagement. Research from Zenger Folkman's database of 250,000 multi-rater feedback surveys shows these huge differences in results produced by the worst and the best coaches:
Leaders who are highly effective coaches have employees who are almost 8 times more engaged than the worst coaches! Even the difference between good coaches at the 50th percentile and great coaches (90th percentile) is vast.
Here are other results our research shows are produced by extraordinary coaches:
• Over 3 times more willingness to "go the extra mile" for the team or organization.
• 2.5 times higher levels of "satisfaction with my involvement in decisions that affect my work."
• More than double the number of employees who were inspired to "put forth a great deal of effort every day."
• Twice as high ratings of supervisor effectiveness.
• Half as many employees thinking about quitting.
• Dramatically higher levels of customer service and satisfaction.
We've also found that all known drivers of productivity can be increased through improved coaching. As the leading management thinker, Peter Drucker, observed "A 10% increase of productivity would double the profits of most organizations."
With this high impact on results coaching is often mislabelled as a "soft skill." Coaching is a vital leadership skill that produces very hard and tangible results!
——————
Join in my complimentary webinar on February 12 on "Building Extraordinary Coaching Skills: Six Steps to a Coaching Culture with Exceptional Leaders." Click here for details and to register (connections are limited).